AIR
DOMES
Our core business activity is the sales of double-layer air-supported domes (see our gallery). We aim to address the needs and requirements of our customers promptly, professionally and comprehensively. The priority is to propose an optimum solution for your requirement in terms of layout and price. Our air domes represent more than 50 years of development, so just tell us what you need and we will find a solution for you!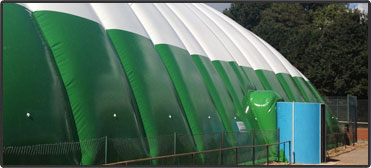 Advantages of air domes
Compared to traditional buildings (such as wooden halls), air domes provide several key advantages, the most pronounced being purchasing costs, speed of delivery and flexibility of construction (you can bring it up or tear it down within one day) – see air dome installation gallery.
Most air domes serve as sports facilities of various kinds (tennis, football, swimming pools, hockey and multipurpose ground are in the greatest demand), but other uses are possible and encouraged, such as temporary storage space, shelter etc. If you need to cover any area, the structure can be standing on site within weeks of signing the contract.
Interested? Send us a no-obligation request for a quote today – fill in the inquiry form at the end of this page.
Technology of CENTAURY+ air domes
Centaury+ air dome does not utilize a rigid supporting structure, it stands erect due to minimal air overpressure inside the dome.
The basic components of an air dome include:
a strong double fabric membrane – for superior weather protection and thermal insulation provided by air pockets between two layers of the membrane. The membrane has high strength, is UV resistant, scratch and tear resistant and partially translucent (no artificial lighting is necessary during the bright day).
an aggregate – for heating the air dome and maintaining the overpressure and proper ventilation. The aggregate can be powered by natural gas, propane-butane gas, light fuel oil, hot water, electricity. There is also a backup diesel aggregate in place, to keep the air dome erect in case of power outage or main aggregate failure.
various kinds of entrances – revolving doors, overpressure doors, service tunnels for machinery, emergency exits etc.
the lighting system inside the air dome – mainly used for low visibility conditions or after dark.
Additionally, the air dome can be equipped with various facilities according to the requirements of the investor, such as toilets, tribunes, tunnels / entrances to a neigbouring solid building, air conditioning for hot regions, fully transparent windows etc.
Comparison of our airdomes to competing solutions
The technology of double-layer air domes (while technologically more complicated), is significantly more cost-effective than usual three-layer steel-cable-supported air domes offered by other manufacturers.
By creating thermal insulation with air cushion between the two layers, we are able to minimize the costs of heating an air dome by more than 30% compared to traditional type of inflatable hall.
Higher strength and longer service life. Utilized materials are of high density, which converts to higher tensile and transverse strength.
Simplified and faster erection and dismantling.
Unique and clean air dome look.
Simple, trouble-free maintenance.
In addition, air domes are ideal for covering open-air sites of exhibitions and fairs or can serve as an overlay on construction sites during the winter months.