Double-Membrane
AIR DOMES
After years of evolving, we have finally come up with coverings immune from all the drawbacks of previously available products. Our double-layer air domes provide much better insulation than standard old-style air domes. Hence, you will be paying up to 30% less in terms of the heating cost. Moreover, our double-membrane air domes are specifically engineered to withstand all kinds of weather. Whether it is heavy snow or high winds, you won't have to worry about structure reliability.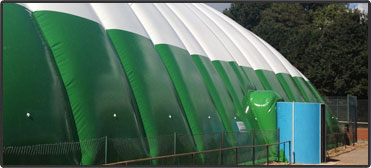 Why Should You Choose Our Air Domes?/ Advantages
The reason behind choosing our product is pretty simple:
"Centaury+ Air Domes are the most reliable, easy to set up, convenient to control and the most economical coverings you can get"
The following features of our air domes are loved by our clients all around Europe:
Purchasing Cost
Probably for the very first time, something that is too good to be true is actually true. Air domes are manufactured to cut costs in terms of temperature control, setting up, and maintenance while being sturdiest.
Speed Of Delivery
Where conventional air domes take months to be useable, our double-membrane air domes are stretched only in weeks. Get a free quote today and enjoy your next-month events in a brand new air dome.
Time Saver
Another major advantage of selecting our air domes is that you save a lot of your valued time. You can stretch or bring them down within a day. You don't get this kind of flexibility if you choose an old-style air dome.
Versatility
We have set up our air domes for clients with entirely different needs, and these domes have performed exceptionally in every case. Most of our double-membrane air domes serve efficiently as multi-purpose sports ground facilities.
However, their applications expand to storage spaces and shelters. In a nutshell, the use of our air domes is only limited by your imagination.
Quite Impressive, Right? Fill in the form below to get a free quote.
`
Technology Of Centaury+ Air Domes
Our Double-Membrane air domes are a fine mix of technological advancement and practicality. From the process of inflating to controlling the environment inside the dome, everything is automated.
Down below is the list of components and technologies we have incorporated to make our air domes unmatchable:
Double-layer Membrane – This feature of our air domes sets us apart from the rest of our competitors. Instead of sticking to outdated and inefficient design, our air domes feature inflated air cushions between the air dome's two membranes, which provides an extra insulation layer. This results in not only a comfier climate inside but also significantly reduces running costs.
Aggregate – Our highly advanced and automated aggregate will take care of the overpressure and ventilation while you enjoy your events. The best thing is that this aggregate operated on various energy sources ranging from very cost-effective hot-water to highly abundant electricity. Hence, you can stretch our air domes in deserts and enjoy a world-class experience.
Backup Aggregate – Power outage? Not a problem if you choose our air domes. Along with the main aggregate to look after everything, we also offer a backup aggregate. This diesel-operated aggregate won't let you face any hassle in case of main aggregate failures.
Multiple Entrances One entrance is not enough for all the operations. Considering this, we have installed multiple passways, including an emergency exit(can be only accessed from the inside), revolving doors for maintaining traffic flow, and service tunnels.
Finest Lighting System – Here at Centaury Plus, we pay a lot of attention to the lighting in our air domes. Fine quality LED lights are placed technically to provide equal lumination in all parts of the air dome. It makes us the best solution if you want to enjoy your sports events at night without any hindrance.
As mentioned earlier, the elements in our air domes are only limited by your imagination (and physics :-). In our double-membrane air domes, you can add amenities as required, such as fully transparent windows, toilets, air conditioning, and extra entrances. Get a no-obligation quote today and make your events even more momentous.
What Sets Us Apart? (Comparision)
If you are still confused, here are some features of our air domes that you won't get anywhere else:
Incorporates cost-Effective, more reliable, long-lasting, more spacious, better looking, and well-insulated double-membrane technology.
By choosing us, you will save up to 30% every time. Due to double-membrane technology, our air domes use fewer energy resources and less time to make climate suitable inside.
The materials we use in our air domes are of ultimate quality. Considering this fact, we can safely claim that our structures won't go anywhere anytime soon.
Unlike old air domes, which take days to set up and dismantle, you can erect and dismantle our air dome within a day.
"Feels Spacious" is what everyone whispers after seeing our air domes. The absence of steel structure provides a very fine finishing to our air domes, encouraging productivity.
We use high-grade and simple yet technologically latest components in our air domes, greatly reducing maintenance costs.
You can rely on our air domes for hosting comfortable and fine-looking indoor fairs and exhibitions. Moreover, if you are in the construction business, you can utilize our air domes as an overlay for the site in winters.
What's stopping you from booking our air domes? Simply fill out the form below and get a free quote to clear all your confusion.