WOODEN
PREFABRICATED

HALLS

Our company has developed a new system for production and construction of wooden prefabricated halls of certified glued laminated timber, which allows us to achieve a significantly lower cost compared to traditional structures of similar type, which translates into excellent final prices for the customer.

Wooden halls have thus become a viable option to air domes, with the advantage of savings on operating costs! Send us your price request today and see for yourself – fill in the inquiry form at the end of this page.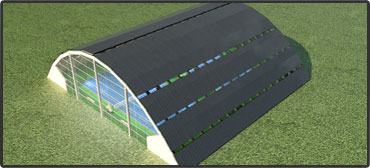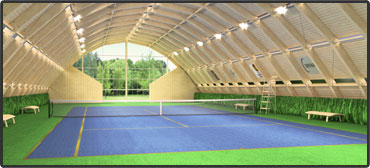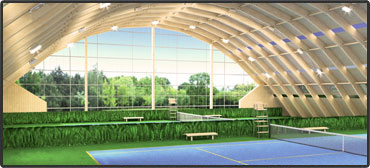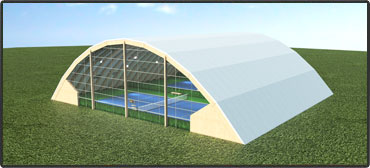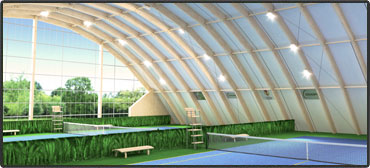 Advantages of our wooden halls
Arched shape of our wooden halls determines their use principally as various kinds of sports facilities (tennis, soccer, swimming pools, hockey and multi-purpose halls constitute the largest part of the demand), but other uses are possible and encouraged – such as storage areas, production halls etc.
Compared to traditional wooden buildings, our wooden prefabricated halls offer several key benefits:
basic frame constructed from certified glulam timber – the wood is of certified strength and properties, dried to 12-15% moisture (so it does not crack and does not warp) and resistant to mildew and pests without further protective measures. Thanks to the lamella technology, beams of large dimensions can be produced (width and over 1 meter), which allows overcoming large spans (of 40 meters or more, depending on the projected load; the length is unlimited) without additional support elements.
optimized shape of the hall – the shape of the hall is optimized for a given area and the design load by a specialized software, so the area is covered with the minimum necessary quantity of material, making it possible to achieve a beneficial price. Using our software it is possible to design virtually any arched shape of hall (within the boundaries of what is structurally permissible).
wide covering options – from simple canvas to highly aesthetic materials, with fully insulated construction.
basic construction of the hall is fully dismountable – if necessary, it may be dismantled, relocated and built elsewhere.
operational costs savings and long life – compared to inflatable halls the higher purchasing price is offset by significant operational cost savings and durability, making wooden hall more economical solution in the long run.